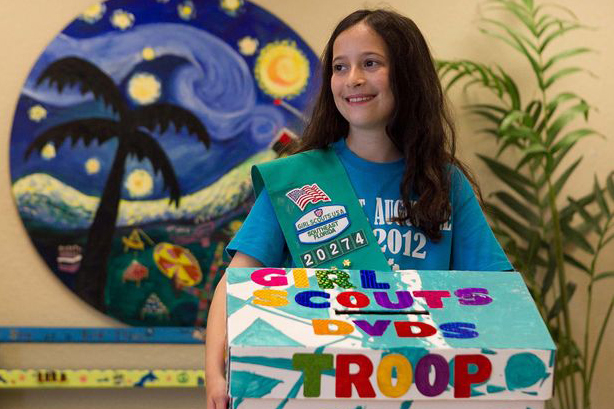 Kayla Abramowitz was named the 2015 Young Entrepreneur of the Year by the Young Entrepreneurs Academy for her work through Kayla Cares 4 Kids, a nonprofit Kayla founded that donates entertainment and educational items to children's hospitals across the country. Kayla's own extended hospital stays (she has Crohn's disease, juvenile arthritis and eosinophilic colitis) inspired Kayla when she was just 11 years old to provide entertainment relief to hospital-bound kids.
Kayla, now 15, has donated more than 14,000 DVDs and other educational and entertainment materials to every children's hospital and Ronald McDonald House in the U.S. and Puerto Rico.
In addition to winning first place at the national YEA! competition, Kayla has been recognized for innumerable charitable awards, and has stacked up a few thank-you notes from senators, governors and even President Barack Obama. Last summer, Kayla received the prestigious Girl Scout Silver Award, which represents one of the highest honors a girl scout cadette can earn for making an impact on her community.
Related: Curing Hospital Boredom One DVD at a Time
But Kayla didn't always start off with a bang. It was more like a knock. The admittedly shy girl went door to door asking for donations. When it came time to put her plan into motion, from collecting donation items to marketing her idea, Kayla says she utilized skills she learned from participating in her Girl Scout troop, a favorite hobby alongside golf and drawing, she says. Here are a few skills Kayla learned about social entrepreneurship from her the Girl Scouts.
1. How to Sell. Despite Kayla's many public speaking appearances, the idea of approaching people and asking for donations terrified her. But she managed to convince Starbucks and other local retailers for permission to leave a drop box in their store, and went around her neighborhood asking for donations, a skill she says she learned while going door to door selling Girl Scout cookies.
"In the beginning, I was the shyest person ever. Even going around the neighborhood was hard for me," Kayla admits. "However, I had a little bit of experience through Girl Scouts, selling Girl Scout cookies and knocking on people's doors. So I kind of knew how to start it."
2. Leadership. Being the face of an organization takes ownership and the confidence to believe in yourself as a leader. For Kayla, stepping outside of her comfort zone through leadership opportunities through her Girl Scout troop helped Kayla open up her mind to the possibility that she could lead.
"Girl Scouts has really given me some leadership skills that I wouldn't have had otherwise with the experience from selling Girl Scout cookies. I even remember taking a class in Girl Scouts about leadership," Kayla told me. "I think it really gave me the little push."
3. Networking. To get the word out, Kayla enlisted the support of her Girl Scout troop members to help market and collect donations from local businesses and friends. Some of Kayla's closest confidants have been made through her Girl Scout troop.
"Actually it was my Girl Scout troop who helped me do a school wide collection at my elementary school. We made it a little project for my Girl Scout troop."
4. Social Awareness. A big focus of the Girl Scouts is not only helping troop members become conscientious to the needs of their community and environment through discussion, but also moving them to action through group activities. Kayla and her Girl Scout troop, for instance, spent a day at Quantum House cleaning, entertaining, decorating and preparing a meal for families staying there. And Kayla's initiative to collect DVDs and other entertainment material became a special project for her troop members.
While it would be remiss not to mention that social awareness started early for Kayla (her family used to donate leftover bagels to homeless shelters on Saturdays), the Girl Scouts continued to provide ways Kayla could harness her social consciousness.